SKOPJE, NATIONAL CAPITAL, NORTH MACEDONIA
Skopje, Albanian Shkup, Serbo-Croatian Skoplje, Turkish Usküb, ancient (Latin) Scupi, principal city and capital of North Macedonia.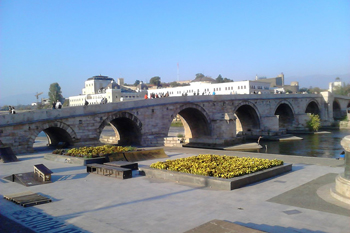 Standing on the banks of the Vardar River amid mountainous country, Skopje began as ancient Scupi, an Illyrian tribal centre. It became the capital of the district of Dardania (part of the Roman province of Moesia Superior) under the emperor Diocletian in the 4th century. In 518 it was totally destroyed by an earthquake. A brief Slav incursion occurred in the 7th century, and in the 9th and 10th centuries the town grew rapidly. The Serbs first captured Skopje in 1189, and in 1392 the Turks after conquering Macedonia made it their provincial capital and an important commercial centre. In 1689 it was burned to the ground by Austrian forces to eradicate a cholera epidemic, after which it declined until a revival in the 19th century with the building of the Belgrade–Thessaloníki railway. By treaty Skopje was in 1913 incorporated into Serbia, and in 1918 it became part of the new Yugoslavia. During World War II the Germans occupied it in April 1941, and it was then garrisoned by Bulgarian troops. Liberated in 1944, it became the capital of the People's (later Socialist) Republic of Macedonia in 1945. In 1991 it became the capital of the newly independent Republic of Macedonia, which changed its name to the Republic of North Macedonia in 2019.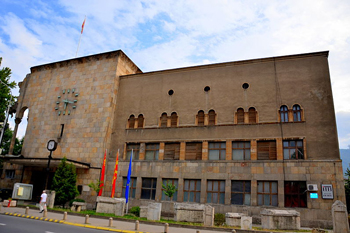 The old city is located on the terraced riverbank dominated by an ancient fortress, north of which is a Roman aqueduct. Medieval monasteries in the vicinity include that of Nerezi (1164), with fine 12th-century frescoes. Other notable buildings are a medieval Turkish inn, the Kuršumli Han, and several mosques. The former strongly Turkish aspect of the city has been altered, however, by reconstruction since 1963, when a severe earthquake left some 80 percent of Skopje in ruins, with 1,070 persons dead and more than 120,000 homeless. Relief in money and kind, including medical, engineering, and building teams with supplies, came from 78 countries. From this, Skopje was called the "City of International Solidarity." A completely new earthquake-resistant town plan was formulated, with several satellite residential nuclei and four industrial regions. On the left bank are the houses of the representative bodies of North Macedonia, educational institutions, a library, concert halls, and radio and television stations. On the right bank is the economic and commercial centre. Skopje is an industrial, commercial, and administrative centre. Industries produce chemicals, cement, agricultural machinery, electrical goods, bricks, ceramics, glass, beer and spirits, canned fruits and vegetables, and tobacco. There are also leather processing, woodworking, chrome refining, and a steelworks. Skopje is an important transportation centre, with rail and road connections and a modern airport. It has a university (1949) and an engineering school and is the site of the Macedonian Academy of Science and Art. Pop. (2002) 467,275; (2020 est.) 512,000.